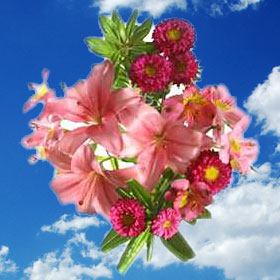 What better way to honor the woman you admire most than with our Mother's Day Arrangements Admiration. Each box contains 18 lovely arrangements. Each arrangement contains 1 dark pink Asiatic lily, 2 stems of hot pink matsimoto, 2 stems of green pittosporum and 2 stems of hot pink alstroemeria. No vase is included.
Combine several arrangements in our Mother's Day Bouquets Thanks For Everything for Mom, Grandma and your favorite Aunt. Elegant and refined, these beauties are perfect tucked into small vases for a wedding cocktail hour. The Mother's Day Bouquets Thanks For Everything make an excellent gift for teachers on Teacher Appreciation Day.
Your flowers and roses are shipped absolutely fresh, direct from our greenhouses to you via
FedEx. Globalrose sells wholesale flowers and roses at prices that are usually lower than most local wholesalers. Flowers are cut especially for you 3 days before they are delivered to your door. Color tones for all flowers and roses may vary due to the computer monitor and/or Mother Nature.
Globalrose.com great deals on Mother's Day Bouquets!.